It's an exciting time here at the 'days. In the nine months since we opened the indoors, we've hosted a variety of sounds on Friday and Saturday nights. After getting a feel for things — and working with some amazing DJs — we're ready to kick off a new format.
Starting this month, we'll serve loose, warm, freewheeling party vibes every Friday night. Forming the foundation of these parties are our Friday residents, Analog Soul, Anthony Naples, Eamon Harkin, Justin Carter, DJ Python and Working Women (that's DJs Nicely, Nina and Voices). Over the next couple months, special guests Turtle Bugg, Riobamba, Matias Aguayo, Justin Strauss, Midland, Antal, Norm Talley, Cooly G and Olive T will also drop in to freak the funk.
On Saturdays, we'll crank the smoke machines, fire up the lighting rig and rave 'til dawn. To that end, we've enlisted Aurora Halal, Beta Librae, FNV (that's JT Almon and Michael Magnan), Physical Therapy, Seltzer (that's Bearcat and Precolumbian) and Umfang as our Saturday residents. In our first two months of Saturdays, special guests Call Super, Mary Yuzovskaya, Antenes, Akua, Ne/Re/A, Relaxer, Jane Fitz, Batu and Tygapaw will also throw down.
We're beyond excited to have all of these incredible DJs on board and we can't wait to get on the dance floor, but, of course, we've got lots of other stuff happening in October, too. We've invited Nowadays family members Beto Cravioto and Kristen Zwicker (aka Dopeshoes) to play tunes on Friday and Saturday evenings, and we're moving our Saturday BBQ inside from October 13th on, so we can keep enjoying brisket and ribs every weekend, just with a roof over our heads now.
Think Olio is back to expand our minds with a two-part seminar modernizing the seven deadly sins, plus a deep listening session featuring two professors digging into the eighth episode of the Twin Peaks revival (specifically its use of Krzysztof Penderecki's Threnody for the Victims of Hiroshima). Starting October 14th, the worldwide listening series Classic Album Sundays is hosting its NYC faction at our house, which means Paul Raffaele and Barbie Bertisch will come over once a month, flip on the hi-fi and dig into an iconic LP (this time it's Sonic Youth's Daydream Nation).
Additionally, Ridgewood Market and Shakey's Record Fair are each dropping by, Mantra Marie is hosting another ethically minded dinner, and we're celebrating Halloween not once, but twice. Mister Saturday Night is hosting its annual fête out back on the 27th, and DJ Python, DJ Healthy, James K and Hank Jackson will helm the indoor hi-fi on the 31st.
Beyond all that, Soul Summit joins Mister Sunday on October 7th, and the party's outdoor season comes to a close this month. On October 21st, Justin Carter and Eamon Harkin will be at the turntables, the smell of mulled wine will be in the air and we'll have one last dance under an open sky before heading indoors for the winter.
Yep, we've got lots of exciting new things starting up this season, but our foundation is holding steady. Tasty food and drink, good music, fun and interesting events, a welcoming space to chill with friends or cut loose on the dance floor — we've got that all year 'round.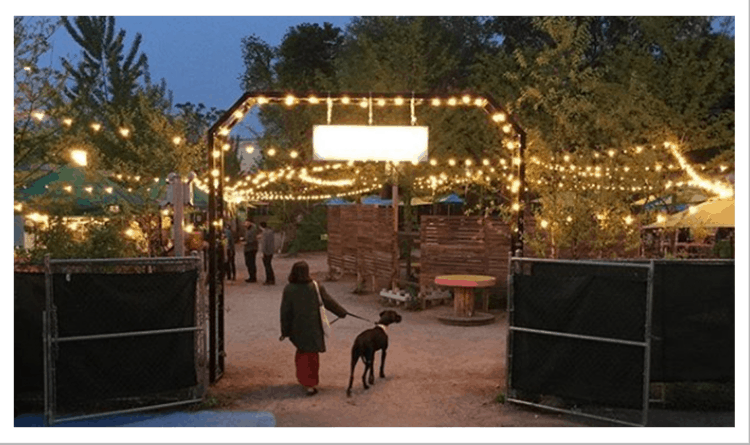 ---

FRIDAY AND SATURDAY: THE INDOOR and OUTDOOR HANG
Good drinks, good food, tunes and games from 4pm on Fridays and noon on Saturdays.
FRIDAY AND SATURDAY EVENING LISTENING, INDOORS
We invite our favorite selectors to set the mood while you drink, eat, play board games or all of the above. The tunes go from 6pm 'til 10pm on Fridays and 4pm 'til 10pm on Saturdays, and it's free.
Oct 05, 19, 26 – Dopeshoes
Oct 06*, 12, 13, 20, 27 – Beto Cravioto
*outdoors
PARTY: FRIDAY NIGHT, INDOORS
On Friday night at the 'days, we throw a party. The tunes are sweet, the sound is warm, and the vibe is good.
Oct 05 – Eamon Harkin and Turtle Bugg
Oct 12 – Riobamba, Matias Aguayo and Justin Strauss
Oct 19 – Analog Soul and Norm Talley
Oct 26 – Antal All Night
SATURDAY BBQ
Who says you can only barbecue in the summer? As of October 13th, we're moving our weekly hang indoors. We'll serve pork ribs and beef brisket from noon on, and Beto Cravioto will provide the soundtrack from 4pm 'til 10pm. There'll be plenty of space for groups big and small to hang, and the back yard will be open too, so if the weather's nice, you can head out there and enjoy your 'cue under an open sky.
RAVE: SATURDAY NIGHT, INDOORS
Every Saturday, we fire up the strobe lights, turn the smoke machines to eleven and dance 'til dawn — and then some. It gets pretty ravey in here.
Oct 06 – Physical Therapy and Call Super
Oct 13 – Mary Yuzovskaya All Night
Oct 20 – Beta Librae, Antenes and Akua
Oct 27 – FNV with Ne/Re/A
MISTER SUNDAY, OUTDOORS
Oct 07 – Mister Sunday and Soul Summit
Oct 14 – Eamon Harkin and Justin Carter
Oct 21 – Outdoor Season Finale with Justin Carter and Eamon Harkin
SPECIAL ONE-OFFS
Oct 09, 16 – Think Olio Seminar: The New Deadly Sins, Indoors
Oct 14 – Classic Album Sundays: Sonic Youth's Daydream Nation, Indoors
Oct 20 – Ridgewood Market, Outdoors
Oct 24 – Shakey's Record Fair, Indoors
Oct 25 – Remedi Food Lunar Dinner Club, Indoors
Oct 27 – Mister Halloween Night: Justin Carter and Eamon Harkin, Outdoors
Oct 31 – Halloween Night: DJ Python, DJ Healthy, James K and Hank Jackson, Indoors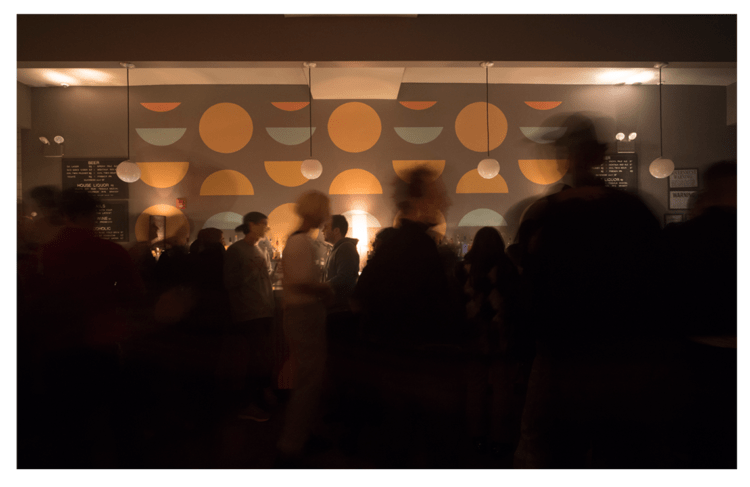 CLASSIC ALBUM SUNDAYS: SONIC YOUTH'S DAYDREAM NATION
Classic Album Sundays, the communal listening series founded by Colleen "Cosmo" Murphy and taking place on four continents, is bringing its NYC edition to the 'days. Once a month, Love Injection Fanzine founders Paul Raffaele and Barbie Bertisch will unpack an iconic LP (and have giveaways from the 33 1/3 book series, to boot). On October 14th, come dive into Sonic Youth's Daydream Nation. October 14th from noon–3pm, $10 advance tickets at nowadays.nyc, $12 at the door

RIDGEWOOD MARKET
Ridgewood Market, a regular neighborhood bazaar offering a range of cool wares, is hosting its October edition in our back yard. Come shop vintage clothes, handmade soaps, DIY robot kits, custom jewelry and original art — all while sipping draft beer. October 20th from noon–6pm, free

THINK OLIO SEMINAR: THE NEW DEADLY SINS
This two-part class kicks off with a look at evil through the eyes of Friedrich Nietzsche and Hannah Arendt, and concludes with an attempt to update the seven deadly sins to fit the present day. Grab a beer, sit back and ponder envy, gluttony, greed, lust, pride, sloth and wrath in the modern world (and then maybe have another beer). Oct 9th and 16th from 7–9pm, $40

SHAKEY'S RECORD FAIR
DJ Shakey's long-standing record fair — which, in consideration of the DJs out there, always goes down on a weeknight — comes to the 'days. In addition to gathering some of the city's best vinyl sellers, the fair hosts record labels, music magazines and gear companies, plus Shakey books a killer lineup of selectors to play throughout the night. It's a lot of fun, it's free and, like much of what we do here, it's open for all ages. October 24th from 7pm–1am, free

REMEDI FOOD LUNAR DINNER CLUB
Nowadays family member Mantra Marie returns to host another feast in our dining room (which also doubles as our dance floor). As the founder of Remedi Food, Mantra is dedicated to making healthy, ethically-sourced food available to everyone. When the moon is full, she invites folks to sit down together and enjoy a meal, a talk on ethical consumption and a guided meditation. She sources her ingredients from local farms the day of, so we can't say what she'll serve, but we can say it'll be delicious. October 25th from 8pm–midnight, $25

MISTER HALLOWEEN NIGHT
On October 27th, Mister Saturday Night hits the back yard to host its annual Halloween fête. Justin Carter and Eamon Harkin will be at the turntables and, if last year is any indication, the costumes will be on point. We'll light the fire pits, serve warm drinks at the bar and finish at midnight, so you won't be a zombie on Sunday (or, you can head indoors after to catch FNV and Ne/Re/A and get some more mileage out of your look). Oct 27th from 6pm–midnight; $15, $20 and $25 advance tickets
HALLOWEEN NIGHT: DJ PYTHON, DJ HEALTHY, JAMES K AND HANK JACKSON
It's Halloween, and whether you like to go all out on a costume or simply take advantage of the opportunity to boo-gie (sorry) to frighteningly good tunes (we can't help ourselves!), we're here for ya. Nowadays resident DJ Python is inviting a supercrew of selectors — DJ Healthy, James K and Hank Jackson — to join him at the decks. Dress up if you want; don't if you don't. Either way it's going to be wicked. Oct 31st from 10pm–4am, free before 11pm with RSVP, $10 and $15 advance tickets