It's thoroughly fall and we are thoroughly ready to get cozy in the cut.
November marks the very welcome return of the Hotbox Mobile Sauna to our back yard. They're open for schvitzing on Fridays and Saturdays and there're also hot drinks available from the bar, a bunch of fire pits and a 20-ish person yurt with comfy furniture and space heaters all available for chilling out and warming up.
In other relaxation news, Planetarium is back. Starting November 1st, we'll clear the floor every Thursday evening, fire up the sound system and take a trip into the stratosphere. At the core of this hi-fi listening session is a new cast of residents. We're proud to announce that Stud1nt, Duane Harriott, Hypnotic Spa (that's Maxime Robillard and DJ Sofiia) and Josh Dunn are all officially a part of the Nowadays family now. Each week, a special guest will join the residents to help steer the ship. This month, we've signed up Laraaji, Jadapod, Foodman, Alternative Medicine and X-Coast to co-pilot.
As for the weekend, it's business/madness as usual. Each Friday evening, we'll ease into the weekend with 2-for-1 happy hour until 8pm, tasty servings from our kitchen and Dopeshoes spinning extra delicious, pre-function fire from 6pm. By 10pm we're in party mode, and this month it's looking pretty powerful. We'll blow up the balloons while special guest DJs Midland, Mystic Bill, Cooly G, Olive T and Young Marco blow up your minds alongside residents Working Women, Anthony Naples and Justin Carter.
On Saturdays, we'll open up at 2pm for our weekly indoor BBQ. There'll be ribs and brisket all day, quality beverages and classic games from the bar and Nowadays linchpin Beto Cravioto keeping it chill on the wheels of steel from 4pm. At around 10pm, we'll put away the smoked meats, pull out the smoke machines, turn off the lights and turn up the rave. Residents DJs Umfang, Aurora Halal and Seltzer are on chaos control for those, with special guests Relaxer, Jane Fitz, Bambii, Batu and Tygapaw providing the supplementary smash.
If it's delights away from the dance floor that you're after, we've got you covered on that front, too. On November 6th, we'll host a special election night get together, with dinner from Remedi Food and a primer on how you can get active in politics from City Councilman Rafael Espinal. After dinner, we'll turn on the big screen and hope for the best as we watch the returns come in. (If it's looking grim, you'll have friends' shoulders to cry on and drinks from the bar.) Beyond dinner and inspiration, this night will also serve as a fundraiser for Councilman Espinal — a champion of nightlife and progressive environmental causes — who's strongly considering running for citywide office.
On November 13th and 27th, Catherine Eberhardt (aka Kiki & the Cosmic Egg) will be coming through with the physical and mental nourishment in the form of her Body Music Therapy sessions, which combine kundalini yoga, guided meditation and a range of electronic music, from ambient to electro. On November 20th, we'll host Dom the Mic, a comedy night run by dominatrix/comedian Karmenife X and her partner in crime Zilla Vodnas.
The brain boosting doesn't stop there. This month Think Olio is hosting Wednesday classes on political correctness and market failures, in addition to a deep dive into Brian Eno's stunning third LP, Another Green World. And the Love Injection crew will explore another musical masterpiece — Sade's Stronger Than Pride — when they take over the hi-fi for another edition of their always excellent Classic Album Sundays.
Finally, it's the holiday season and we'd be slacking if we didn't make the most of it with a proper Thanksgiving Eve knees up. To that end, we've enlisted Detroit don Marcellus Pittman for an extended set on November 21st. He'll start at 8pm, so come early, get it in on the dance floor and wake up Thursday feeling a little better about your impending food coma.
So whether it's to dance, learn, eat, zone way, way out or just pop in for cocktails and conviviality, we're looking forward to posting up among the houseplants and enjoying the season with you.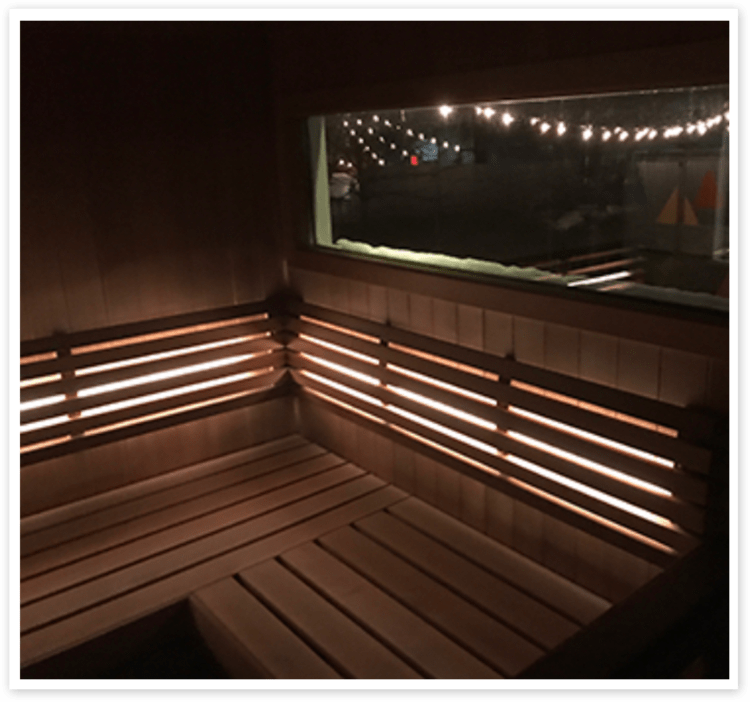 ---

HANG: WEDNESDAY THROUGH SATURDAY
Tasty drinks, good food, great tunes and classic games starting at 5pm Wednesday through Friday, and at 2pm on Saturdays. On Friday and Saturday evenings, we invite guest selectors to spin indoors while you chill. This month it's Dopeshoes and Beto Cravioto on the ones and twos. Outside we're rolling out our winter garden complete with fire pits, a heated yurt and delicious hot drinks. Plus, the Hotbox Mobile Sauna will be back and ready for your schvitzing pleasure.
PLANETARIUM: THURSDAY EVENING
Every Thursday from 7pm to midnight, we clear the floor between our speakers and host a hi-fi listening session. Selectors play everything from blissed-out ambient to pre-war blues, often with live performances by special guests woven throughout. Feel free to bring pillows, blankets, sleeping bags — whatever you need to get yourself comfortable and your mind lost in music.
Nov 01 – Stud1nt (DJ set) and Laraaji (live)
Nov 08 – Josh Dunn (DJ set) and Jadapod (live)
Nov 15 – Duane Harriott (DJ set) and Foodman (live)
Nov 29 – Hypnotic Spa (DJ set), X-Coast (live) and Alternative Medicine (live)
PARTY: FRIDAY NIGHT
It's party people in the house each and every Friday night. Strictly the cutest club vibes and the sickest sounds — from dusty funk bombs to slamming tribal screamers and back again. We're out here from 10pm until the dance is done.
Nov 02 – Midland All Night
Nov 09 – Anthony Naples and Mystic Bill
Nov 16 – Working Women and Cooly G
Nov 23 – Justin Carter and Olive T
Nov 30 – Young Marco All Night
SATURDAY BBQ
Sure, it's fall, but barbecue tastes good all year, so we serve ribs and brisket indoors every Saturday from 2pm on. There's plenty of space for groups big and small to hang, and we've got main man Beto Cravioto on the musical grill from 4pm 'til 10pm serving the tunes up extra hot.
RAVE: SATURDAY NIGHT
Every Saturday, we fire up the strobe lights, set the smoke machines to eleven and bang the box until it gets bright. Techno, electro, psycho — whatever. If you like it hard, you'll probably love it here.
Nov 03 – Relaxer and Jane Fitz
Nov 10 – Umfang and Bambii
Nov 17 – Aurora Halal and Batu
Nov 24 – Seltzer and Tygapaw
SPECIAL ONE-OFFS
Nov 06 – Election Night Dinner and Talk
Nov 06 – Election Night: Watching the Returns Together
Nov 07 – Think Olio: A World Beyond PC
Nov 14 – Think Olio Immersive Listening: Brian Eno's Another Green World
Nov 13, 27 – Body Music Therapy
Nov 18 – Classic Album Sundays: Sade's Stronger Than Pride
Nov 20 – Dom the Mic Comedy Night
Nov 21 – Thanksgiving Eve Party: Marcellus Pittman All Night
Nov 28 – Think Olio: How Markets Fail and Why it Matters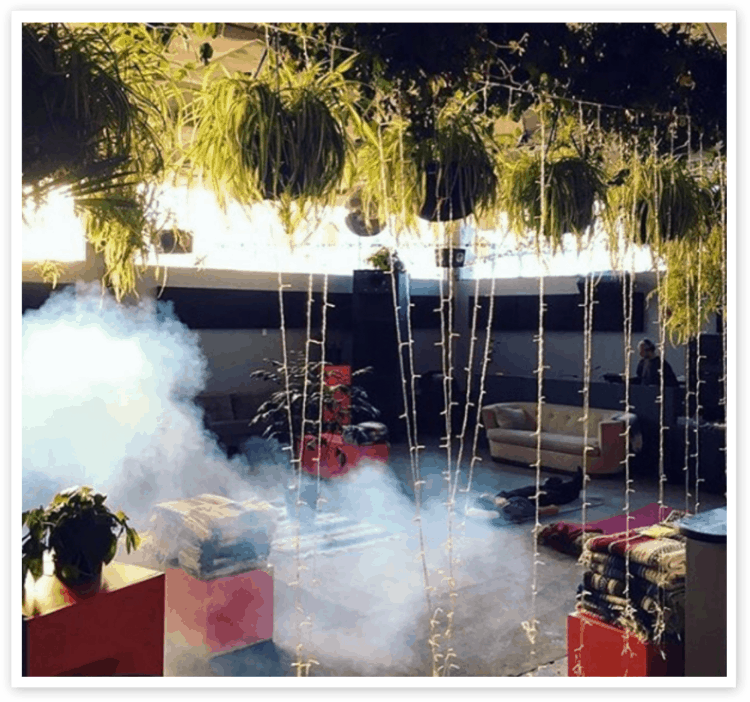 ---

Think Olio: A World Beyond PC
Think Olio returns to sharpen our minds with another educational evening. Marissa Gutierrez-Vicario is the executive director of the non-profit Art and Resistance Through Education (ARTE), as well as an adjunct lecturer at the City College of New York. In this class, she looks at how a fear of language can hold us back from addressing critical social justice issues, and explores ways we can use language to create more welcoming communities. November 7th at 7:30pm / $15
Think Olio Active Listening: Brian Eno's Another Green World
Composer and conductor Whitney George commandeers our custom sound system once again to guide us through the inner workings of another thoroughly incredible album: Brian Eno's Another Green World. November 14th at 7:30pm / $15
Think Olio: How Markets Fail and Why it Matters
Lev Moscow, an NYC teacher who's taught classes in international political economy for over a decade, is coming to Nowadays to examine everything from crypto currencies to online dating sites to tourists paying too much for bottled water. Come sit back with a (reasonably priced) beer and learn all about market failures and their effects. November 28th at 7:30pm / $15

Body Music Therapy
Catherine Eberhardt, aka Kiki & the Cosmic Egg, is bringing her unique combination of guided meditation, electronic music and kundalini yoga to Nowadays for a pair of Tuesday evening sessions. The November 13th session features tunes from Ron Like Hell, and November 27th brings Bilaliwood to the turntables. November 13th and 27th from 8pm to 9:30pm / $22

Election Night Dinner and Talk
It's the night of the midterms and rather than biting our nails waiting for the results to come in, we've decided to sit down together, share a meal and get involved. City Councilman Rafael Espinal, a fierce advocate for nightlife and progressive environmental policy, will give a talk on getting active in politics, and Nowadays family member Mantra Marie will serve up a delicious, ethically sourced meal. Come 9pm, we'll roll out the big screen and host a free viewing of the election results. November 6th at 7pm / reserve a seat by making a donation of $35 or more at rafaelespinal.nyc / donations also accepted at the door
Election Night: Watching the Returns Together
Whatever the outcome of the midterms, we figure we ought to be together, so we're inviting everyone over to our house. City Councilman Rafael Espinal will give a talk about getting involved in politics, and we'll watch the results come in on the big screen. Whether we end up celebrating or commiserating, we'll walk out better prepared than ever to bring about change. November 6th at 9pm / free

Thanksgiving Eve Party: Marcellus Pittman All Night
On the night before Thanksgiving, we're inviting a Detroit legend to help us work up an appetite. Over the past two decades, Marcellus Pittman has released insanely deep grooves on some of Detroit's most important imprints: FXHE, Sound Signature, FIT Sound and, of course, his own Unirhythm label. He's also a herculean selector with a preference for marathon sets. We're kicking things off at 8pm, and we may still be going when it's time to put the turkey in. November 21st from 8pm to 4am / RSVP for free entry before 11pm and $10 entry from 10pm to midnight / $15 and $20 advance tickets

Classic Album Sundays: The White Album
The worldwide communal listening series returns for another NYC installment this month. This time, Love Injection Fanzine founders Paul Raffaele and Barbie Bertisch unpack Sade's . The event kicks off at noon with context music and an introduction, followed by full album playback at 1pm. November 18th from noon–3pm / $10 advance tickets / $12 at the door

Dom the Mic
After a fantastic show in September, Karmenife X and Zilla Vodnas are back for another edition of their "Dom the Mic" comedy night. Karmenife X is an artist, writer, stand-up comedian and professional dominatrix who works to create safe spaces for sex workers and survivors of sexual violence. Zilla Vodnas is a Bushwick native who's performed at the Harlem Comedy Festival, Atlanta's Live Comedy Mixtape and Boston's 2018 Women in Comedy Festival. They've put together a killer lineup — Elsa Waithe, Hyperbole The Queen and Becca Beberaggi — and the night ends with an open mic for black and POC femmes. November, 20th at 7:30pm / free